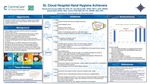 Description
Develop and adopt a culture change to increase hand hygiene compliance across all St. Cloud Hospital (SCH) inpatient and outpatient departments
Hand hygiene is the best method to prevent the spread of infection (CDC, 2017).
Historical data for SCH indicated below desired goal of 95% compliance with hand hygiene practices and continued identification of hospital associated infections.
Employee engagement best achieved through promoting culture of safety supporting hand hygiene best practices (Piras et al., 2018).
Educating staff on the WHO 5 Moments of Hand Hygiene, developing monitoring process for assessing opportunities to complete moments of hand hygiene, and providing detailed feedback can enhance results and improve culture (Haas, 2014).
All staff survey identified best sources of performance feedback comes from peers and direct leadership.
Keywords
Hand hygiene, Safety culture, Attitude of health personnel, Guideline adherence
Disciplines
Other Nursing
Recommended Citation
Dumonceaux, Patricia; Maciej, Sara; Reed, Jessica; and Welle, Tamara, "St. Cloud Hospital Hand Hygiene Achievers" (2020). Nursing Posters. 113.
https://digitalcommons.centracare.com/nursing_posters/113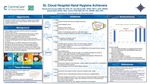 Included in
COinS