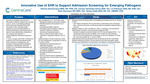 Description
CentraCare hospitals were the first in Minnesota to identify a patient with Candida auris (C. auris), an emerging pathogen.
2018 Centers for Disease Control and Prevention (CDC) and state health department recommended adoption of enhanced admission screening process to allow for early identification of patients at risk of being colonized with C. auris/Carbapenem-Resistant Organisms (CROs).
C. auris, a fungus, and CROs, comprised of organisms from the Enterobacteriaceae family resistant to carbapenems, are emerging multidrug resistant pathogens. Emphasis on identification and early isolation of at-risk patients decreases risk of transmission.
Keywords
Candida auris, C. auris, EHR, Electronic Health Record, Travel screening, Isolation, Admission screening
Disciplines
Infectious Disease | Other Nursing
Recommended Citation
Dumonceaux, Patricia MSN, RN, CIC, PHN; Harlander-Zimny, Carolyn; Kiffmeyer, Elizabeth; Simonson, Ellen; and Welle, Tamara, "Innovative Use of EHR to Support Admission Screening for Emerging Pathogens" (2022). Nursing Posters. 127.
https://digitalcommons.centracare.com/nursing_posters/127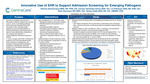 Included in
COinS