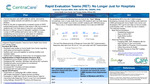 Description
Study:
Everyone goes to the Nursing Home for End of Life - Right? Wrong Cumulatively, over a 4-year study there were 678 residents with Full Code status residing at Carris Health Care Center and 687 residents the DNR/DNI status. That is only a 10-resident different between Full Code and DNR/DNI
Plan:
Improve long-term care staff's ability to call for, and receive, support to rapidly evaluate and address an urgent or concerning situation.
Need for this plan is supported by increased number of OHFC substantiated events related to code status in MN and number of residents with Full Code status in long term care facilities.
Barriers to Change: amount of education needed to increase number of CPR certified staff and to train on RET process, establishing one true source for code status for residents, establishing facility equipment needs for crash cart.
Keywords
Rapid evaluation teams, RET's, Long-term care
Disciplines
Nursing Administration | Other Nursing
Recommended Citation
Thorson, Amanda, "Rapid Evaluation Teams (RET): No Longer Just for Hospitals" (2021). Nursing Posters. 148.
https://digitalcommons.centracare.com/nursing_posters/148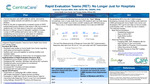 Included in
COinS