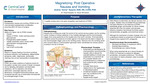 Description
Purpose:
To guide nursing care in the early recognition and treatment of PONV.
Prevalence:
Postoperative nausea and vomiting (PONV) is the most prevalent postoperative complication occuring within 24 hours of surgery.
Risk Factors:
Adults at a higher risk of PONV include:
Female
History of PONV, motion sickness and/or gastroparesis
Postoperative opioid recipient
Volatile anesthetic and/or nitrous oxide administration intraoperatively
Pregnancy
Use of birth control pills
Implications:
PONV can create a plethora of adverse events for the patient: anxiety and a sense of dread, increased risk for bleeding, dehydration and electrolyte imbalance, risk for aspiration and airway obstruction, vasovagal response, wound dehiscence, increased intracranial pressure, and increased cost with use of antiemetics and potential for prolonged length of stay.
Keywords
Postoperative nausea and vomiting, PONV, PONV therapy
Disciplines
Other Nursing | Perioperative, Operating Room and Surgical Nursing
Recommended Citation
Nyquist, Andrea, "Magnetizing: Post Operative Nausea and Vomiting" (2019). Nursing Posters. 151.
https://digitalcommons.centracare.com/nursing_posters/151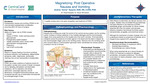 COinS