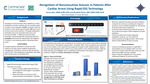 Description
Background:
Evidence - Prevalence of nonconvulsive status epilepticus or other epileptiform activity in patients who are comatose after a cardiac arrest is between 12-22%. Consistent with the literature, at this facility approximately 12% were found to have non convulsive seizures. Prolonged epileptiform discharges may cause secondary brain injury and increased mortality. In 2020, the American Heart Association recommended EEG monitoring should be promptly performed and interpreted for the diagnosis of seizures in all comatose patients following cardiac arrest.
Local Problem - Comatose patients admitted to critical care after cardiac arrest who require targeted temperature management (TTM) have continuous EEG monitoring ordered STAT. Neurodiagnostic technologists who apply EEG monitoring are not available 24/7.
Conclusions/Implications:
While the rapid EEG recording may have limitations compared to continuous recordings for diagnostic purposes, it has immediate feedback for monitoring of nonconvulsive status epilepticus.
Continuous EEG monitoring can take 45 minutes to set up and much longer to obtain diagnosis of status epilepticus.
Continuous EEGs have broader diagnostic capabilities, however, are not monitored continuously by neurology providers, which could delay the identification of seizure activity.
Recommendations:
Continue immediate placement of rapid EEG if technologists are not available within one hour.
Continue to replace rapid EEG with continuous EEG when technologist becomes available.
Explore improved capabilities for more timely reading and diagnosis of continuous EEG.
Keywords
Rapid EEG, Continuous EEG, Status epilepticus, Electroencephalography, Cardiac arrest
Disciplines
Critical Care | Critical Care Nursing | Other Nursing
Recommended Citation
Jahn, Teresa and Plante, Elizabeth, "Recognition of Nonconclusive Seizures in Patients After Cardiac Arrest Using" (2023). Nursing Posters. 156.
https://digitalcommons.centracare.com/nursing_posters/156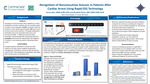 COinS