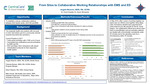 Description
Opportunity:
To establish a strong, collaborative relationship between St. Cloud Hospital Stroke Center, St. Cloud Hospital Emergency Department and Emergency Medical Services.
Background:
Two separate health care systems with one goal in mind: best stroke care for a community member experiencing stroke-like symptoms.
Current Practice in 2017:
Code stroke activation with LTKW (last time known well) up to 6 hours.
Inconsistent pre-notifications and pre-activations by EMS and ED.
St. Cloud Hospital and Mayo Clinic Ambulance with siloed/individualized protocols for their respective health systems.
Conclusion:
In May 2019, after 2 years of working together our teams saw our efforts come together when Mayo Clinic Ambulance adopted and supported St.Cloud Hospital VAN (visual, aphasia, neglect) protocol to be site specific for the St. Cloud Region. Our collaboration efforts have shown when there is pre-notification and pre-activation patients are treated with a thrombolytic consistently under 45 minutes and to the operating room for a thrombectomy within 75 minutes.
Publisher
CentraCare Health
Keywords
Code stroke, Collaboration, Emergency department, Emergency medical services, Stroke assessment, Stroke protocol
Disciplines
Critical Care Nursing | Other Nursing
Recommended Citation
Moscho, Angela, "From Silos to Collaborative Working Relationships with EMS and ED" (2023). Nursing Posters. 157.
https://digitalcommons.centracare.com/nursing_posters/157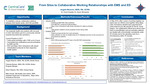 Included in
COinS