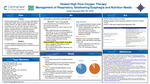 Description
Problem
Patients diagnosed with COVID-19 pose challenges for oxygenation. Often requiring heated high flow oxygen therapy (HHFOT) for days to weeks, with literflow commonly over 40 L/min with maximum of 60 L/min.
There is minimal research on aspiration risk at higher literflow, therefore practice included decreasing liter flow to 20 L/min for oral intake was standard.
During oral intake, with literflow decreased to 20 L/min, patients' oxygen saturations would quickly trend down.
Alarms indicating low saturation would create anxiety, cause patients to eat faster potentially increasing risk for aspiration.
Solution
For adult inpatients meeting criteria, increase maximum literflow allowed during oral intake from to 40 L/min.
Develop guidelines for:
oxygen supplementation during oral intake
how/when to consult Speech Language Pathologist
inclusion of dietitian earlier in hospitalization
Keywords
Oxygen inhalation therapy, Oxygen supplementation, COVID-19, Speech pathology, Aspiration, Oral intake
Disciplines
Critical Care Nursing | Other Nursing
Recommended Citation
Overgaard, Jenelle, "Heated High Flow Oxygen Therapy Management of Respiratory, Swallowing/Dysphagia and Nutrition Needs" (2023). Nursing Posters. 158.
https://digitalcommons.centracare.com/nursing_posters/158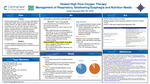 Included in
COinS