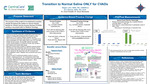 Description
Purpose Statement:
The purpose of this project is to implement a practice change throughout the system to remove heparin flushes for Central Venous Access Devices (CVADS) pending a successful pilot on Medical Oncology.
Synthesis of Evidence:
Shama et al (2019) conducted a systematic review and meta-analysis including 886 participants that revealed no clear differences in CVC patency between heparin and NS.
Klein et al (2018) conducted a pilot study on a 30-patient bone marrow transplant unit, each patient had a new CVC and were divided into two groups. Among 698 catheter-associated events overall incidence of central line issues were similar in both heparin and normal saline group.
Egnatios & Gloria (2021) studies 37 patients receiving clinical trial infusions, they divided the study into two phases. During heparin phase there were 302 port accesses and four alteplase orders, during the NS study there was 261 accesses and seven alteplases orders. Alteplase was successful every time it was used.
Zhong et al (2017) performed systematic [sic] review on use of heparin v. flushing protocols. Ten randomized control trials involving 7,785 participants were included in the meta-analysis. No general differences found between heparin v. NS in maintaining patency.
Goossens et al (2013) oncology patients were randomly selected from 2009-2011. 382 were ultimately selected for normal saline group, and 283 for heparin group. All nurses were trained in proper pulsatile technique before study, it was found intimately heparin was not superior in comparison to NS in maintaining the patency of CVC.
Publisher
CentraCare Health
Keywords
Heparin, Normal saline, Central venous access devices, CVADs, Indwelling catheters, Push-Pause
Disciplines
Critical Care Nursing | Other Nursing
Recommended Citation
Lehn, Megan and Backes, Ann, "Transitions to Normal Saline ONLY for CVADs" (2023). Nursing Posters. 162.
https://digitalcommons.centracare.com/nursing_posters/162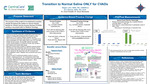 Included in
COinS