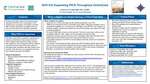 Description
Purpose:
Sharing information about Post Intensive Care Syndrome (PICS) to all in CentraCare. PICS symptoms do not appear until weeks to months after a critical care illness so patients at home may not know what to do with their symptoms.
Future Plans:
May 2023 - introducing CICU to the PICS process during their Nurse Practice meeting.
May 2023 - updating the Hospital Medicine Section CNS
Fall 2023 - meeting with the Ambulatory Work Cabinet group to see if our system of notification is working
What opportunities do we have with teaching Progressive RNs about PICS and our Diaries?
How can we reach out to our patient population even more: MyChart messages, community education, etc?
Publication Date
Spring 2023
Keywords
Post intensive care syndrome, PICS, NICU, Neonatal intensive care unit
Disciplines
Critical Care Nursing | Other Nursing
Recommended Citation
Tindal, Jessica A., "SCH ICU Expanding PICS Throughout CentraCare" (2023). Nursing Posters. 163.
https://digitalcommons.centracare.com/nursing_posters/163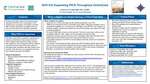 Included in
COinS