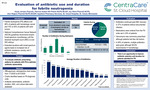 Description
Introduction:
Febrile neutropenia (FN) affects over 80% of patients with hematologic cancer and 10% to 50% of patients with solid tumors
National Comprehensive Cancer Network (NCCN) guidelines recommend empiric broad-spectrum monotherapy until the absolute neutrophil count (ANC) is over 500 cells/uL.
Extended durations with broad-spectrum agents leads to increased risk of antibiotic resistance, toxicity and C. difficile infection.
Purpose
To evaluate antibiotic prescribing patterns for patients with FN to optimize antibiotic stewardship.
Keywords
Antibiotic stewardship, Febrile neutropenia, Hematologic cancer
Disciplines
Pharmacy Administration, Policy and Regulation | Pharmacy and Pharmaceutical Sciences
Recommended Citation
Jensen, Kayla; Aubert, Patricia; Ward, Joy; and Wigton, Ann, "Evaluation of Antibiotic Use and Duration for Febrile Neutropenia" (2020). Pharmacy Posters. 8.
https://digitalcommons.centracare.com/pharmacy_posters/8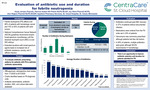 COinS